Two of the most significant questions you ask yourself in life are when to retire and where to retire to. Once the when is taken care of, you need to determine where. Options for senior living communities are growing every day. Asking the right questions will help you make up your mind and find the retirement community that best fits your lifestyle. When you're searching for a retirement home, you should evaluate it based on factors like location, access to health care, accessibility, security, lifestyle, cost, and more. We've compiled a list of the top points to consider so you or your family find the right fit in your future retirement community.
Types of Retirement Communities
When you're seeking out a retirement home, it's essential to keep in mind there are various types of retirement communities. Some common community types include active adult 55+ communities for home buyers, senior independent living apartments, assisted living homes (or personal care), nursing homes for skilled nursing care, memory care community, and life plan communities (also known as continuing care retirement communities). Each living community model aims to offer a safe, welcoming environment for seniors with different needs and preferences.
Considerations for Choosing a Retirement Community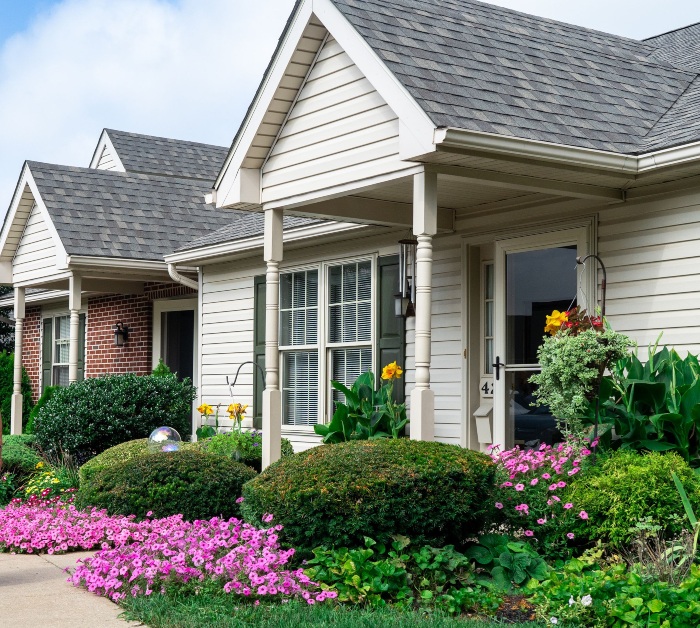 1. Location
The best way to think about the location is by asking what the weather is like there and what's nearby. Visit the area you want to move to before you make a decision. You should enjoy the weather all year round if you're making a permanent move. Outside of the weather, consider what there is to do in the area. One of the biggest reasons that folks retire to Lancaster County is the abundance of activities from music to restaurants, the ability to visit close-by cities like Philadelphia and New York City, and of course the beautiful farmland.
2. Medical care
What kind of medical care is available to you near the retirement community or even better within the community? There should be specialists nearby that accept new patients. Your retirement community should provide detailed information about local, reputable medical providers for finding a primary care physician, dentist, eye doctor, and more. Plus, you want to make sure there are great hospitals nearby. Lancaster County boasts some of the best hospitals in the country. The retirement community itself may offer on-campus medical care. Here at United Zion, residents have the ability to see a range of medical professionals from physical therapists to podiatrists.
3. Accessibility
Details like accessibility and safety features can reveal a lot. Be sure to compare details like walkability, biking paths, elevators, widened doors, stairlifts, and wheelchair ramps. Other safety features like handrails, grab bars, and zero-threshold showers may also be important to you.
4. Housing options
Moving out of your home is bittersweet. You want your new retirement home to be as comfortable as possible. Be sure to look at various housing options available, like apartments or cottages. Are the residences comfortable? Can you bring your own furnishings and decorations? Is it the right amount of space? Is there enough storage? Does the layout suit your lifestyle and activities? Can you picture yourself living there?
5. Security
One important thing to consider when choosing a retirement community is the security measures in place. You should feel safe to enjoy activities and take walks without worry. Is there a check-in area for visitors? What about security cameras, security lighting, emergency response systems, and most importantly, a nearby emergency room?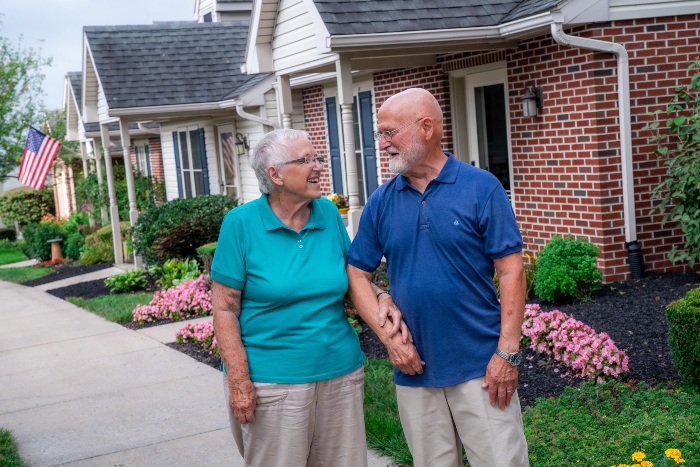 6. Recreation
Recreation is vital whether you're a serial hobbyist or not. It gives you something to look forward to as well as new activities to try. Not only are social activities fun, but community life is also an excellent opportunity to make new friends. Ask to speak with residents and learn more about the activity schedule. Also, take a look at what recreational amenities are available on-campus such as a woodshop, fitness center, library, and craft areas.
7. Lifestyle and culture
You want to live somewhere that lets you live your best life. Ensure your retirement community is close to nearby activities, beauty salons, libraries, shopping, continuing education opportunities, entertainment, cultural events, and more. If you have pets, want to grill outside, plant a small garden, or need someone to live with you long-term, make sure you are aware of any restrictions or rules.
8. Food, dining, and socialization
If you're a foodie or simply enjoy a nice night out, you'll want to be sure the senior living community you choose has plenty of food options. You will find that communities offer a variety of options from formal dining room with sit-down meals to small on-site cafes, grab-and-go cases to small grocery stores. Don't just ask to see a menu, go for a visit and try the food at the places you are considering.
9. Levels of Care Offered
Some senior living communities offer various services and levels of care as residents' needs change, others may only offer one level of living. Communities offering multiple levels of care are often referred to as life plan communities or continuing care retirement communities. Independent residential living offers apartments and cottages for like-aged individuals. Personal care facilities provide additional services and levels of care to seniors who need more assistance with activities of daily living like meals, showering and reminders. Memory care is designed to assist seniors that are challenged by memory loss. Healthcare Centers offer skilled nursing for short-term rehabilitation or long-term care. You or your loved one may not need additional levels of care right now, but knowing that option is available in the future can help alleviate future worries.
When looking at the levels of care offered, make sure to ask if that community accepts Medicare, Medicaid, supplemental Medicare plans, and long-term care insurance.
10. Cost and value of a retirement community
An essential aspect of finding a retirement community is cost. You and your family should sit down with a trusted professional to discuss your finances, notably your long-term savings. Make sure to review your monthly bills are compare them to the retirement community cost. What services are included in the retirement community? Every community could have different fees and services. For example, United Zion includes cable, basic utilities like water and electricity, twice a month housekeeping, and Wi-Fi in all our apartments for a low monthly fee. We often find that residents mention that their monthly fees in Senior Residential Living are lower than what it cost to maintain their home when they considered utilities, property taxes, and other upkeep.
Where You Choose to Live Matters
You want to be sure the place you choose is a good fit for you or your loved one throughout the aging process. To get a good sense of what the retirement community is truly like, you should ask questions and go for a visit. To learn more about Union Zion Retirement Community, contact us today to schedule a visit