United Zion Retirement Community offers 24-hour professional long-term nursing care in Lancaster, PA (Lititz) for individuals facing increasingly complex medical needs. Therapeutic services, coordinated through a multi-disciplinary team of healthcare professionals, focus on keeping an individual's maximum independence. For end of life needs, we offer comfort care and supportive hospice services to ease this critical time of life. We also offer memory care services and United Zion acts as a memory care facility.
Our team uses a compassionate, person-centered approach, which coordinate nursing care, therapy services and nutrition to stimulate each resident's maximum level of independence.
Residents and residents' families often comment on the great quality of care, the wonderful fresh food and the family feel. Here is what one resident's family had to say – "The staff has been excellent. They are attentive, knowledgeable and patient oriented."
What is it like to live in Long-Term Care?
Each resident has a private room with a TV, home-like furniture and great views. Each hall of 12-17 rooms includes a comfortable living room, inviting dining space and kitchen, which provide room for a variety of social and recreational activities. Plus, a large activity space, chapel, convenient outdoor spaces, and sunrooms provide plenty of space for large group activities and to enjoy the beautiful hilltop views. On-site amenities include a salon, medical spa, therapy room and primary care physician for convenient appointments. Click here to learn more about what UZRC's community life is like.
United Zion is certified for both Medicare and Medicaid Services.
Would you like to talk with someone about long-term care services at United Zion Retirement Community? Call us at (717) 626-2071 or request information today.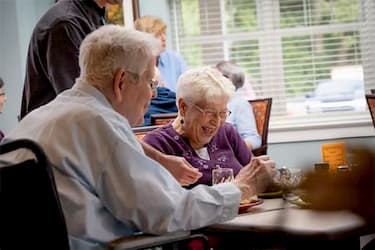 Learn How To Start Living Your Best Life Today!
Frequently Asked Questions (FAQs)
Located in Lititz, Pennsylvania (among the rolling hills of Lancaster County, PA), United Zion Retirement Community provides long-term skilled nursing care. Our residents choose United Zion for many different reasons, including:

Person-centered care: Our person-centered lifestyle approach to care enables residents to maintain their own unique lifestyle preferences within an atmosphere of warmth and dignity.
Staying active: Residents and families find that their participation in their care planning, along with the many social activities, help residents stay active.
Feels like home: Residents appreciate the home-like feel of the neighborhood model, with less than 18 residents for each area
Recently renovated: Social gathering spaces and dining areas were all renovated in the last several years, and include fireplaces and bookcases.
History of care: With over 115 years of service to Lancaster County, generations have been coming to us for quality services and the family atmosphere of a small, friendly community.

The menu consists of two daily specials and an extensive always on menu. In the dining room, we offer seated service with our hospitality attendants taking orders and delivering it to the table. Dining is a social time, however some residents may have care plans that require in-room dining. We offer concierge room service dining experiences for all of our hospitality attendants. Learn more about community life at United Zion here.

Each Healthcare Center accommodation is a private room with fully-accessible bath and a window to our lovely hilltop views. Many of our private rooms have their own dedicated bath; while other private rooms share a bath in a suite arrangement with one other room.

All rooms are arranged in a neighborhood-model setting, which gives a home-like feel. Each neighborhood of 12-17 residents consist of a:

Living room with fireplace
Dining room
Kitchen

Also, our retirement community has the following to enhance the choice of services and activities:

Wellness suite
Full-service salon
Library
Community rooms
Chapel

Learn more about available long-term care accommodations in the Healthcare Center information packet. You can also contact us with any questions!

In addition to long-term care, United Zion Retirement Community offers:

Respite care
End-of-life hospice care

Learn more by downloading the Healthcare Center information packet. You can also contact us with any questions!

In addition to an individual's own personal resources, United Zion Retirement Community is Medicare and Medicaid certified, enabling acceptance of all supplemental plans and long-term care insurance. Coverage on some Medicare replacement plans may vary depending on network participation. If eligible, there are VA benefits that can help supplement cost. We also work with long-term care insurance. Contact us with any questions!

To get started, request information and an application here. Completion of the application and providing supporting documents, along with appropriate medical information is the first step.

If coming from home, a home visit is preferred to establish a plan of care best suited to an individual's needs and goals.
If coming from a hospital for short-term rehab, make sure to mention to the hospital's case manager about your interest in United Zion.

In the Healthcare Center for skilled nursing care (which includes long-term care), residents are provided with medically-necessary services as well as assistance with daily living activities and mobility support. Care in the Healthcare Center is overseen by Registered Nurses (RNs), with the support of LPNs and certified nurse aides (CNAs). Due to the more challenging needs of the residents in Healthcare, there is a higher ratio of staffing to residents.

Personal Care Services are about keeping the resident's maximum independence with non-medical supportive services. Personal Care assists with activities of daily living, such as medication management, incontinence care, meals, social activities, housekeeping, and daily reminders. Care is overseen by licensed practical nurses (LPNs) with support of medication technicians, certified nurse aides and resident aides.

Skilled Nursing Facility is just another name for Nursing Home. However, often people use the term "nursing home" to refer to any senior living facility, including Personal Care.

Yes, United Zion is licensed by the state of Pennsylvania as a nursing home, also known as a skilled nursing facility. Learn more about Skilled Nursing here.

Yes. United Zion is a Life Plan Community offering:

We do not offer home care services at this time.

As a benefit of the continuum of care offered to residents, current United Zion residents do have priority access to the Healthcare Center. However, we also take those outside of those currently living at United Zion. Contact us today in order to hear when a unit becomes available.

Skilled nursing care includes:

Registered nurse (RN) oversight, with direct care by licensed professional nurses (LPNs) and certified nursing assistants (CNAs)
Physical, occupational, and speech therapies include the latest techniques to restore an individual's maximum independence

These therapies are coordinated with social services, spiritual care, life enrichment activities, and dining services to provide a lifestyle-oriented approach
A variety of educational, social, spiritual, and recreational programs offer personal fulfillment suited to one's own interests

Additional services include:

Respite care
End-of-life hospice care

Learn more about available skilled nursing services and rates by downloading the Healthcare Center information packet. You can also contact us with any questions!

Can children, grandchildren, or friends visit me and spend the night?

Visitors are always welcome. However, in the Healthcare Center, overnight guests are not allowed. There are a number of nearby hotels for family (see below). Overnight guests are allowed in Residential Living.

Are there nearby hotels for them to stay at?

There are several hotels in the area including Hotel Rock Lititz. Please let us know, as resident's families may receive discounted rates at some local hotels.

How close are you to an airport or train station?

There are 4 nearby airports:

Lancaster Airport (10 minutes)
Harrisburg International Airport (1 hour)
Philadelphia International Airport (1.5 hours)
BWI: Baltimore-Washington International Airport (1.5-2 hours)

The Lancaster train station is a 15-20 minute drive away

Please request an informational brochure or contact us to learn about pricing.

Short-term rehabilitation (if approved) can be covered under your health insurance like Medicare. If you are qualified for Medicare, Medicare will help pay for your long-term care stay.

Residents are billed monthly at United Zion. Contact us with any additional questions you have.

Please discuss this with your tax professional. Click here to learn more about Skilled Nursing Care.

United Zion Retirement Community is focused on supporting adults 62 years of age and older.

Skilled Nursing Care in our Healthcare Center provides 24/7 medical care for your love one, including end-of-life hospice care.

In additional to the medical care, it also includes assistance with daily living activities (like meals and housekeeping), social activities, and spiritual support.

This assistance helps residents live their life to the fullest and provides comfort to those that need it.

Please contact us to find out about availability.

Feel free to contact us and submit an application to let us know that you are interested in becoming a resident at United Zion's Healthcare Center, either in preparations for rehab after a planned surgery or for future long-term care needs.

However, please consider applying for Residential Living or Personal Care, as United Zion residents do get priority access to Healthcare for both long-term care and short-term rehab.

Residents have a large selection of activities to choose from, including individual, small group, and large group activities. These activities could include:

Reading
Board games
Bingo
Trivia
Crafting
Painting
Listening to music
Singing
Music concerts
Fitness classes
Outdoor activities
Prayer group
Bible study
Book club
…and so much more!

Some residents also enjoy the outside areas or taking walks. Chapel services are offered at least 6 times each week. Click here to learn more about community life at UZRC.