Why Consider a Healthcare Center using the Neighborhood Model
United Zion Retirement Community has over 110 years of serving the Lititz community with caring and compassion with a focus on providing personalized care and strengthening a resident's independence. We are often asked why did United Zion Retirement Community's Healthcare Center switch to a neighborhood model and what are the benefits.
Here are a few of the many benefits: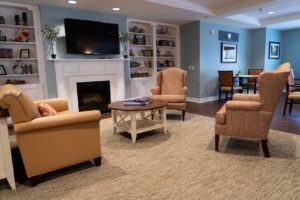 Smaller feel – Healthcare Centers for long-term care and short-term rehabilitation are often overwhelming due to the size. This large size makes it difficult for new residents to adjust quickly to the new setting. In the neighborhood model, there are less than 20 residents assigned to a neighborhood providing a cozy atmosphere. Plus, everything is easily accessible in the neighborhood so the resident has a comforting space.
Home-like Environment – At United Zion, our living spaces have a more home-like feel. There are fireplaces, bookshelves, throw pillows and natural light. On top of this, the décor can be adjusted based on residents' preferences by adding items of interest to the bookshelves or rearranging furniture to fit the residents' preferences and abilities.
Enhances personalization – Each resident has more control over his or her care in the neighborhood environment. The neighborhood model naturally encourages small group and resident-initiated activities scheduled to fit a resident's preferences. Thus, art activities can be offered to one neighborhood in the morning but to another neighborhood in the afternoon.
More freedom and independence – The neighborhood model empowers residents to actively participate in social, physical and medical decisions. This also strengthens interpersonal relationships between employees and residents as well as between residents and residents. This empowerment comes in part from the smaller group setting, which allows for easier adjustment to the residents' interests and preferences.
Increases socialization – In the more home-like setting, research has shown that socialization increases between residents and employees. This improves residents' demeanors as well as increases amount of food eaten at meal time. This improvement can lead to happier and healthier residents.
New activities – At United Zion, the redefined neighborhood space has added to the number of activities that can be offered. For example, the kitchens in each neighborhood have casual countertop seating which allows for hands-on cooking classes and cooking demonstrations.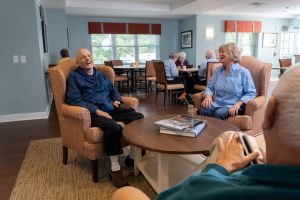 So why did United Zion move to a neighborhood model?
The neighborhood model will help us continue our mission to – provide superior quality services to the aging, based on Christian principles, in a loving and caring community, encouraging independence, promoting wellness, and preserving human dignity. In short, it enhances the personalized care we provide, promotes independence and improves the wellness of the residents. Interested in learning more?
Consider setting up a time to visit United Zion Retirement Community or give us a call at (717) 627-8421.
Need Help With Retirement Planning?