Retirement Community Jobs Lititz, PA
Walk-in Wednesdays at UZRC
Our walk-in Wednesdays include the opportunity for on the spot interviews. Come see why a job in senior living is the right place for you!  Walk-In interviews happen the 2nd Wednesday of each month from 12N – 5PM. Come learn about our amazing benefits, meet some team members and more.  Part-time, full-time and pool opportunities available for all shifts including weekend programs. Create a schedule that works for you! We can't wait to meet you!
The Benefits of Working at United Zion
United Zion has a generous benefit package that goes beyond the typical retirement plan:
Company match
Health insurance
Paid time off (PTO)
PTO conversion
Rock Medical membership that gives you access to concierge physician services, attendance and vacation bonuses, education assistance and tuition reimbursement, and more.
Flexible shifts – Healthcare Center and Personal Care Unit shifts are unique and manageable to fit into almost anyone's schedule.
There's More…
Employees enjoy United Zion's dedication to its mission to serve the aging as a faith based, non-profit. Nurses and nursing assistants appreciate the Resident to CNA & Nurse Ratio Advantage. Plus, the Healthcare Center was recently remodeled and expanded making it a beautiful environment to work in.
United Zion Retirement Community is a "person-centered" community: team members know each resident, honor their story and offer daily care that meets them where they are. Team members embody the loving and caring central to the mission.  United Zion has a friendly, caring, team-based environment.
Healthcare Center Shifts are:
Days 5:30AM – 1:30PM
Evenings: 1:30PM – 9:30PM
Nights: 9:30PM – 5:30AM
There's an opening for you!
Walk-in and interview with our team for positions in Healthcare, Personal Care, Environmental Services, or Food and Nutrition. No appointment needed. Check out our job openings that include dining attendants, cooks, CNAs, LPNs, RNs, aides and more!
Opportunities for Full-Time, Part-Time and Pool openings.
Learn about our exceptional benefits and incentives, our resident to nurse ratio advantage and more! Masks are required to enter the building.
Why Work in Senior Living
LPNs, RNs and CNAs find that working in a senior care environment gives them time to know those they serve. Staff forms connections with residents and other employees for a close-knit community. Nurses and nursing assistants learn new skills from problem solving difficult medical issues to empathy to behavioral management.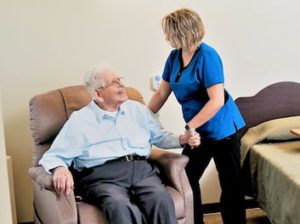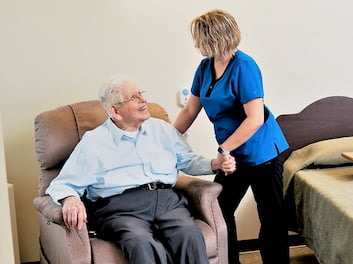 Are you interested in one of our job openings?