May & June 2023
Oil and Acrylic Painter, Heidi Ruhl
The Trinity Art Gallery is pleased to announce the exhibit of oil and acrylic paintings 'Lancaster County and Beyond' by Heidi Ruhl.
Born and raised in Lititz, Ruhl and her family reside in East Petersburg. She graduated with a BFA in Illustration in 2007 from the Pennsylvania College of Art & Design. In 2022, she was featured in the Lancaster Newspaper (LNP) for a mural painting at The Amish Farm and House.
Her work is often colorful, sometimes whimsical and realistic. Landscapes, portraits and animals are some of her favorite subjects. Painting has always been her favorite medium but she's recently been exploring scrap metal art and pyrography.
'The Veterans Memorial Bridge' viewed from the Columbia River Park and 'The Migration of the Snow Geese' from the Middle Creek Wildlife Preserve are two of Ruhl's favorite places in Lancaster County. These two paintings are included in the exhibit and reproductions of both are part of permanent installation at the Penn State Hospital in Lancaster.
Plan to visit United Zion Retirement Community to enjoy Heidi Ruhl's exhibit on display during the months of May and June. The Trinity Art Gallery is open daily from 8AM to 8PM.
For more information about her art, visit hsrstudioarts.com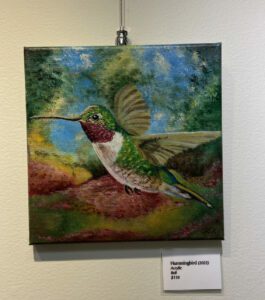 Acrylic by Heidi Ruhl